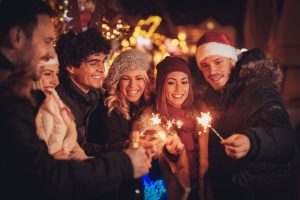 Eggnog, honey-baked ham, family time, holiday music, and gift giving are just some of the traditions that happen during this wonderful season! You may be making food, getting gifts, or readying your house, but there's one preparation that you may have forgotten about, teeth whitening. The holidays are a time for family and friends but also photos. Is your smile camera ready? See why now is the best time to get the bright, white smile you've been wanting.
Holiday Cards: Say Cheese!
Your family is sure to send out a holiday card, and in today's world, you'll probably also take many photos for various social media. Technology has only gotten better, which means these photos will be crisper than ever, picking up any stains, discoloration, or yellowing you may have in your smile. Your grin is the second physical attribute people notice about you, which is why it's a great idea to get professional teeth whitening before the holiday season! That way, your smile will be ready when the cameras start flashing.
Kickstart Your New Year's Resolution
If you're like millions of Americans, you may have a discolored smile, which can affect your confidence. If you're looking to make 2020 your year, a great way to get started is with teeth whitening. You can smile with confidence knowing that you look great. In fact, studies show that people with white smiles are automatically perceived as more successful, youthful, confident, and trustworthy.
Boost Your Self-Esteem
What's a better time to work on yourself than the holiday season? If you've been struggling with self-esteem problems because you don't want to show your yellowed or stained smile, teeth whitening is a great solution. One of the most popular cosmetic dentistry treatments, professional whitening can remove tough stains to help you feel great about your smile. Or, if you know someone that could enjoy these benefits, professional teeth whitening makes a great holiday present. Boosted self-esteem is one of the most meaningful gifts you could give!
Excel in Your Professional Life
A white smile can go a long way when making impressions. Whether it's a big interview, a meeting, or simple networking events, having a healthy-looking smile can actually help your career. Especially in sales and business, where relationships mean everything, a beautifully white smile could help you close a deal or land your next job.
Now that you know why the holidays are a great time for teeth whitening, what are you waiting for? Contact your dentist to get started on a bright, confident smile.
About the Practice
At Hulen Dental, we have a team of 3 highly-trained dentists who have a passion for quality care. They offer a wide range of treatments, but they take great pride in their ability to boost patients' confidence and self-esteem. If you're interested in teeth whitening, they can be reached through their website or by phone at (817) 292-5957.
Comments Off

on Why Now is the Perfect Time for Teeth Whitening