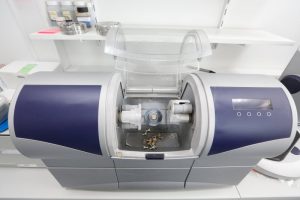 Have you ever had a dental emergency that resulted in a broken tooth? Perhaps you woke up and had an infected tooth that required emergency root canal treatment to fix? Maybe you just had decay removed from your tooth and you don't have the time to schedule a follow-up in the near future? All of these problems have come up sometime or another, which is why many dentists are opting for same-day crowns and CEREC milling machines to make them.
But what is CEREC and what are the benefits? Keep reading to find out!
How Traditional Crowns are Made
When you needed a dental crown, whether it was because of an emergency or from extensive tooth decay, it was impossible to get it the same day. In order to create the crown, the dentist needed to use putty-like impression material to capture a mold of your current damaged tooth. This mold would be sent to a dental lab offsite so they could create the crown. Since that lab is taking requests from many other dental practices in the area, you would need to wait at least two weeks before it was ready. This required you to wear a temporary crown so the damaged tooth wouldn't be exposed.
In many cases, dental crowns are made from materials that may not necessarily be natural-looking. While your tooth would now be protected, there wasn't always a guarantee that it would blend in with your smile. This left many patients upset with their new appearance.
What is CEREC Technology?
While traditional crowns function well, CEREC technology allows dentists to streamline the entire fabrication process of dental crowns. CEREC stands for Chairside Economical Restoration of Esthetic Ceramics. The device that creates the actual crown is known as a milling machine and is located right in the dentist's office. With the help of CAD/CAM technology (computer-assisted design and manufacture), dentists can create a high-quality crown that fits more comfortably in just one hour.
What are the Benefits?
One of the main benefits of CEREC crowns is their added convenience. Since the crown is made entirely in the same office you receive treatment in, you don't need to wait weeks just to have a single crown placed. Because CEREC uses high-tech software to design the crown, you're far less likely to need unpleasant impression material to get an accurate model. In the event the crown doesn't fit right, it's easy to make modifications without waiting another two weeks and wearing a fragile temporary crown.
Furthermore, the cost of CEREC crowns is largely comparable to traditional crowns. Even though they are created in a fraction of the time, you can get a sturdy solution for damaged teeth. In fact, CEREC crowns have a 95.5 percent success rate over a 9-year period, proving them to be incredibly reliable. And since they're made from high-quality ceramics, you don't have to worry if they'll blend in with your existing smile.
Don't settle for inferior crown fabrication methods. Schedule an appointment today to get your next CEREC restoration placed!
About Hulen Dental Group
The dentists and team members at Hulen Dental Group are always working hard to provide the most advanced dental technology to patients. With CEREC technology, our dentists can treat your dental issues faster, more effectively and without sacrificing quality. To learn more about the practice, give us a call by visiting our website!
Comments Off

on What are Same-Day Crowns and How Are They Made?