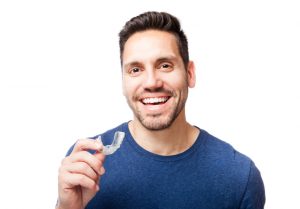 Adults and older teens with crooked teeth have a fantastic chance at revamped smiles with Invisalign clear aligners. Dr. Barry Stovall, Dr. Johnny Cheng and Dr. Chris Thorburn offer Invisalign at Hulen Dental in Fort Worth. Patients love their discreet, comfortable and fast treatment.
How Invisalign in Fort Worth Works
Invisalign is a unique orthodontic system which uses a series of clear aligner pairs to straighten a variety of smile issues. Resembling professional teeth whitening trays, these snugly fitting aligners fit over top and bottom teeth, gradually moving them into healthier and more attractive positions.
The dentist at Hulen Dental qualifies an adult or older teen by doing a comprehensive oral examination, including digital X-rays and photographs. He composes a treatment plan and sends the information to the Invisalign lab. At the lab, the technician crafts 18 to 30 aligner pairs which the patient changes out approximately every two weeks over the course of treatment.
He or she visits Hulen Dental every four to six weeks for a fast progress check and to receive the next sets of aligners in the treatment plan. The patient wears the aligners 20 to 22 hours a day and can remove them:
To brush, floss and clean the aligners
To eat meals and snacks
To get pictures taken
For special occasions such as weddings, graduations and professional events
Who Gets Invisalign?
Invisalign clear aligners correct many mild to moderate orthodontic issues such as overbite, underbite, crossbite, open bite, overjet, tooth rotation and gaps. Unlike traditional metal and ceramic braces, there are no complex hygiene routines and no dietary restrictions with Invisalign. The patient simply removes the BPA-free aligners and cleans them with a non-abrasive toothpaste or mild soap and water.
Brushing and flossing is the usual twice daily routine as recommended by the American Dental Association. Invisalign wearers enjoy a healthy diet with no limits on fibrous vegetables, nuts or other items off limits to people with wires and bracket braces. Plus, they suffer no sore spots on soft oral tissues are the aligners are perfectly smooth and truly unnoticeable to anyone but the patient and dentist.
Many older teens and adults qualify for Invisalign. Of course, they must be in good oral health, be willing to practice good oral hygiene and come to Hulen Dental for check-ups and cleanings.
Additionally, the Invisalign system is versatile. While it cannot correct complex orthodontic problems, it does realign a wide variety poor bites and makes smiles very attractive.
Treatment Times
Typically, treatment with Invisalign takes nine to 18 months. One year is about average while traditional braces take two to 2-½ years or more. After treatment is complete, the dentist at Hulen Dental may recommend stabilizing the refurbished smile with a customized Vivera retainer from Invisalign.
Are You Interested?
Contact Hulen Dental for an Invisalign consultation with our friendly team. You will get all your questions answers and learn if Invisalign can revamp your smile.
Comments Off

on Subtly Revamp Your Smile with Invisalign in Fort Worth