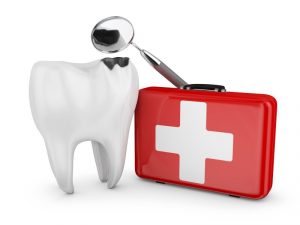 One second, everything is fine. The next, you have a dental emergency! What do you do? Do you go to the emergency room or to the dentist? When you experience a dental emergency, your mind can race. That's why it's important to plan now how you will react when one does happen. Your dentist is capable of treating many dental emergencies in their office, saving you time and money that would have spent in the emergency room. Check out this helpful information about dental emergencies and how your emergency dentist in Fort Worth can help.
Common Dental Emergencies
Sometimes, it can hard to know whether you need to see the dentist right away. If you are experiencing pain, have broken something in your mouth, or are bleeding from your mouth, you should see your emergency dentist immediately. Below are some common serious dental emergencies:
Knocked-out tooth.
Broken or fractured tooth.
Object stuck between teeth.
Some less common dental emergencies include the following:
Swollen or bleeding gums.
Cuts to the soft oral tissues.
Canker sores.
Although you don't need to seek immediate attention for these three dental emergencies, you should contact your dentist for additional guidance or their next available appointment to get treatment.
How Your Dentist Can Help
Knocked-Out Tooth
You can try to put the tooth back in the socket, but avoid touching the tooth's root. At minimum, keep it moist by storing it in water or milk. If you haven't done so already, your dentist will place the tooth back into the socket and then create a splint to hold it in place while it heals. A few weeks later, you'll return to have the splint removed.
Toothache
A toothache likely results from tooth decay that penetrated into the pulp or center of the tooth. As a result, you may need root canal therapy to clean out the diseased tissue.
Broken or Fractured Teeth
Try to gather the large pieces of your broken or fractured tooth. Your dentist may be able to reattach them.
Object Stuck between Teeth
If you have something stuck between your teeth, try using floss to gently guide the object out. Do not use sharp objects because they can damage your gum tissue or scratch your enamel. If flossing doesn't work, your dentist should be able to remove the item using their tools.
Swollen or Bleeding Gums
This common symptom in your gums is a telltale sign of gum disease. If caught early on, a routine cleaning is typically enough to address the issue. Later stages of gum disease require more intensive treatment, such as scaling and root planing, or a deep cleaning below the gum line and smoothing the root surfaces to prevent future plaque buildup. For advanced cases, your dentist could use an antibiotic or even surgery to get your oral health back on track.
Cuts to Soft Tissue
For cuts to the soft tissue in your mouth, try to stop the bleeding and assess how serious the damage is. If you doubt whether or not it requires medical attention, follow your instincts and call your dentist. After all, it's better to be safe than sorry!
Canker Sores
Most of the time, canker sores go away on their own within two weeks. If, however, yours are unusually large, are recurring, and last longer than two weeks, contact your dentist. Sometimes these are triggered by sharp tooth surfaces or dental appliances, in which case, your dentist should be able to provide some relief.
Although you can't plan when or how a dental emergency will happen, you can be prepared and plan how you will respond when one does. By turning to a trusted emergency dentist in Fort Worth, you can get the treatment you need, recover, and get back to oral health in no time. For more information about dental emergencies, contact your dentist.
About the Practice
At Hulen Dental, patients have access to three talented, experienced dentists. They and their staff do their best to be available for patients in a dental emergency. In fact, they recommend that patients save the office's number on their phones so that they can call in case of an emergency. To schedule an appointment with them or to contact them in an emergency, call (817) 292-5957 or click here.
Comments Off

on How Your Emergency Dentist Can Help