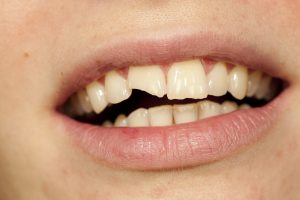 You are struck in the mouth with a baseball, and a large portion of your front tooth chips off. Not only is it unsightly, your tooth hurts quite a bit. Your emergency dentist in Fort Worth at Hulen Dental skillfully repairs damaged teeth.  Modern cosmetic and restorative procedures relieve pain and restore defects so you can keep your tooth and your smile aesthetics.
Chips and Fractures
Bring your oral health emergency to Hulen Dental for quick relief and effective repair.
Drs. Stovall, Cheng or Thorburn will examine the damage and recommend ways to strengthen a chipped tooth and restore its appearance and function.
Your repaired tooth will blend right in with the rest of your healthy teeth. Here are the cosmetic and restorative services your emergency dentist at Hulen Dental delivers:
Tooth-colored fillings Made of composite resin, this filling material restores decayed teeth and replaces chipped, dark amalgam fillings. Composite resin requires conservative removal of healthy enamel, and the resin bonds to existing tooth structure. The dentists commonly use it to repair chips that have begun to decay.
Composite resin bonding Using the same tooth-colored material, the dentist fills hairline cracks, chips, and gaps. Hardened with a special curing light, composite resin bonding is durable and resists staining.
CEREC (Chairside Economical Restoration of Esthetic Ceramics) same-day crowns These realistic restorations cover chipped, broken or severely decayed teeth. An initial evaluation, X-rays, and digital impression start the process. Using sophisticated CAD/CAM software and chairside fabrication, the dentist crafts the crown and places it in under an hour, saving the damaged tooth from decay and infection.
Onlays and inlays These partial crowns restore teeth cracked at the corners. They require minimal removal of enamel and are tooth-colored. They strengthen and beautiful chipped and cracked teeth.
Porcelain veneers These whisper-thin shells of ceramic cover the front of teeth damaged by cracks, chips, stains, odd shape, gaps or crowding. Because they improve smiles quickly, veneers often are called "instant orthodontics."
Root canal therapy cleans and disinfects the interior of an abscessed and painful tooth. The procedure relieves pain and preserves healthy tooth structure, protecting it with a dental crown. Root canal therapy is often the treatment of choice for a severely damaged tooth.
Please Be Cautious
Contact Hulen Dental immediately when a dental emergency happens. In the case of a chipped tooth, save the fragments in a sealed plastic bag or other container and bring them with you. Cover the jagged edges of your tooth with orthodontic wax or denture adhesive (both available at your local drugstore).
At the office, your dentist will examine the injured area and take X-rays as needed. Then, he will recommend one of the above restorative or cosmetic treatments.
Be sure you do not try to treat a cracked tooth by yourself. Superglue is never a repair option! Remember that a chip or crack opens a tooth to bacterial invasion, decay and infection deep in the tooth pulp. So, avoid serious problems and tooth loss by getting professional treatment right away.
Don't Delay
If you chip, crack or even knock out a tooth, contact Hulen Dental. The professional staff will serve your immediate and long-term dental needs. They want you and yours to have the healthiest, brightest smiles possible.
Comments Off

on Emergency Dentist in Fort Worth Repairs Chipped Teeth