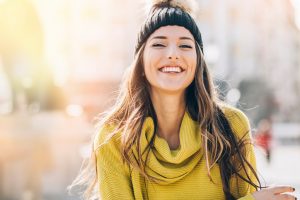 If you've been to the movies recently, you've probably seen the brightest, most beautiful smiles up on the big screen. Did you know that many famous actors and actresses have improved their teeth with the help of one cosmetic secret? Porcelain veneers have helped our most well-known celebrities to feel confident about themselves, so why can't they help you?
Well, they can! Your local cosmetic dentist in Fort Worth offers the very same dental procedure to help you mask multiple flaws about your smile in one single procedure. Learn more about how you can get your Hollywood smile in this week's blog post.
Learn All About Porcelain Veneers
If you haven't heard about veneers, yet, we can explain a little about them here. Porcelain veneers are thin layers of high-quality dental porcelain that lay over your teeth. Each veneer is customized to fit your tooth, mask your flaws, match your natural teeth (or make them brighter), and are permanently bonded for longevity! This way, each tooth is crafted to meet your smile goals for 10 years or longer.
Veneers Can Improve All of These Dental Flaws
There are many things that people just don't enjoy about their smile. Sometimes, their imperfections have such a hold on their confidence, that people will avoid social settings, pictures, and even cover their mouth every time they laugh so that people won't see their teeth.
If you are in good health and have any of these flaws, veneers can help you mask one or more of these flaws in a single procedure!
Chipped teeth
Cracked teeth
Deeply set teeth stains
A tooth that is smaller than others
Misshaped teeth
Unusually worn teeth
Broken teeth
Your Cosmetic Dentist in Fort Worth Loves Creating Perfect Smiles!
If you'd like to explore the possibility of getting porcelain veneers, the first thing that you should do is call your local dental office for a cosmetic consultation with your dentist.
It's important to meet and discuss if veneers are right for you, if you have adequate oral health, and the way that you can fit this cosmetic procedure into your lifestyle and budget. All these things are covered during your first appointment, making sure that your questions and concerns are addressed before moving forward.
Are you ready to explore getting porcelain veneers? You can start the process with a simple phone call to your local dental practice!
---
Meet Your Cosmetic Dentists
Here at the Hulen Dental, you can be confident in the cosmetic work that you plan to receive will be just what you imagined. Our dental team strives to be the best at what we do, so we never settle for anything less than meeting your smile goals. Contact us today to meet with your cosmetic dentist!
Comments Off

on How Many Flaws Can Your Cosmetic Dentist in Fort Worth Cover?