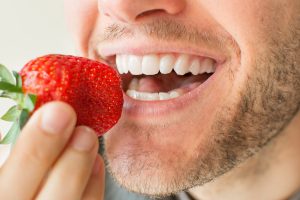 Each time you look in the mirror, you can't bring yourself to smile. Every time you see your teeth, you feel a wave of embarrassment wash over you. Why do cosmetic procedures take so long?
If you can't bear to think of waiting for another second to improve the appearance of your smile, there are options on the market for you to explore, like Snap-on smiles from your cosmetic dentist in Fort Worth. Learn more about them and a few different alternatives in this week's blog post.
What Are Snap-On Smiles?
The thought of waiting a few weeks, months, or possibly even years to get the smile of your dreams can discourage people from ever accomplishing their smile goals. Other patients may not have the funds to afford the cost of permanent cosmetic dental work. Thankfully, Snap-on smiles allows people to explore a quicker, more cost-effective cosmetic option.
Snap-On smiles are essentially your dream smile that attaches to your natural teeth. Each Snap-on smile is crafted from high-quality dental products (composite resin) and shaped in a way that will meet your idea of a perfect smile. The shade of the Snap-on smile will match natural teeth, so that no one can tell that you have an attachment. To get this cosmetic service, you'll simply plan your perfect smile with the help of a cosmetic dentist.
There Are Permanent Options, Too!
If you really want your new smile to last for years and years, you can choose to explore a long-lasting cosmetic option that addresses your specific needs, like veneers or the Invisalign straightening treatment.
Porcelain Veneers
Many patients love the idea of veneers because it's easy to mask multiple flaws all at once. Whether you have chips, cracks, gaps, or even short teeth, porcelain veneers work to cover more than one flaw with a single procedure. Plus, the veneers are permanently bonded to your teeth for a real solution to your cosmetic problems.
Invisalign Clear Aligners
If straightening your teeth is your main priority, Invisalign could be the best option for you. Invisalign allows patients to close the gaps in your smile in much less time than traditional braces. Plus, the treatment is created from clear, smooth plastic aligners so that practically no one can tell you're wearing them!
Talk to Your Dentist!
Are you interested in moving forward with one of the cosmetic services mentioned above? Whether you want Snap-on smiles, veneers, or Invisalign, you need to visit your local office for a cosmetic consultation!
---
About Our Office
When you choose to visit Hulen Dental, you can be confident that you'll only be recommended the services that truly will benefit you. That's why meeting with us is so important—so we can get to know your individual needs! Contact us today to get started.
Comments Off

on Learn About Your Options from a Cosmetic Dentist in Fort Worth